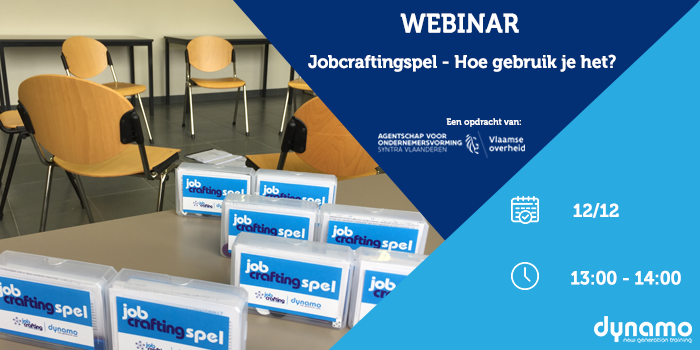 Met Jobcrafting neem je de verantwoordelijkheid om kleine veranderingen in je werk aan te brengen die resulteren in meer motivatie en minder energieverlies. Je hebt de kleine wijzigingen in eigen handen. De aanpassingen zijn zonder nadelen voor collega's, in lijn met de missie van de organisatie en de doelstellingen van het team.
Het jobcraftingspel brengt structuur in het zoeken naar boetseermogelijkheden in je huidige job. Het kan zelfstandig of met een coach worden gespeeld.

Wil je graag nog meer info over Jobcrafting? Neem dan eens een kijkje op jobcrafting.info
Wat neem je mee uit dit webinar?
Wat is jobcrafting en wat kan het betekenen voor mij?
Wat zijn de misverstanden?
Hoe gebruik ik het jobcraftingspel? (Als coach of voor mezelf)
Praktische info:
Het webinar wordt verzorgd door Wim Thielemans en gaat door op woensdag 12 december om 13.00u. Jouw deelname is vandaag gratis.
Als je het spel bij de hand hebt tijdens het webinar kan je nog beter meevolgen. Het jobcraftingspel kost 25,95 Euro (incl. BTW, excl.verzendkosten). Het bestaat in het Nederlands en Frans.
Bestel het spel hier
Wil je graag een heruitzending zien van dit webinar? Gelieve dan een mail te sturen naar info@dynamo.be